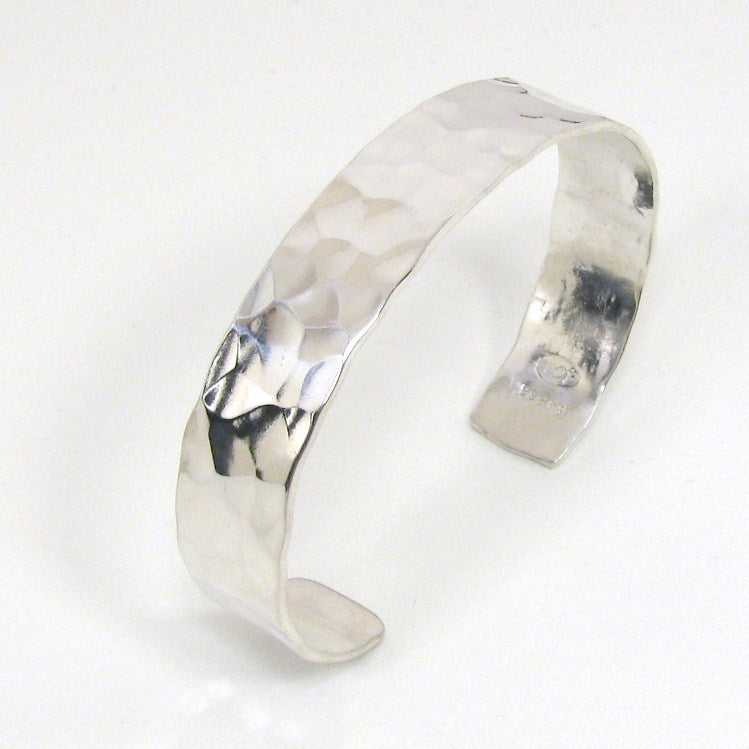 Silver Cuff Bracelet, Hammered Rustic Pure Silver Bracelet
An easy to wear pure silver cuff bracelet with a hammered finish polished to catch the light and add a subtle sparkle for dress or casual wear. The cuff is hand made to fit your wrist perfectly, not a standard blank which tends to be too large and uncomfortable. When a cuff fits right, you never have to reshape it and that will avoid metal fatigue cracks which ruin improperly sized cuffs. 
Pure silver (A.K.A. Fine Silver) is the highest quality silver commercially available. It is 99.9% or higher in purity. It differs from sterling silver which typically has 7.5% copper content. Pure silver is hypo-allergenic, very stable and resists tarnish. You may never have to polish this cuff.
When ordering, measure your snug wrist size using a soft tape measure or narrow strip of paper you can mark and measure  - See photos for measuring examples.  If the cuff you receive doesn't fit just right, I will always exchange for a different size. If you're buying as a gift use this guide to help determine size -
5" - Child
5 1/2" - Petite Woman
6" - Slender Woman
6 1/2" - Medium Woman
7" - Slender Man
7 1/2" - Medium Man
8" - Large Man
The cuff is available in 3 widths - 5/16",  7/16" and 9/16".  Some expansion occurs during hammering so the finished widths will be closer to 3/8", 1/2" and 5/8".  The cuff modeled in the 2nd photo is 5/16".
NOTE:  Leave your snug wrist measurement in the order instructions box at checkout.  e.g. 6 3/8", 7 1/4", etc.  Sizes available are 5" - 9"