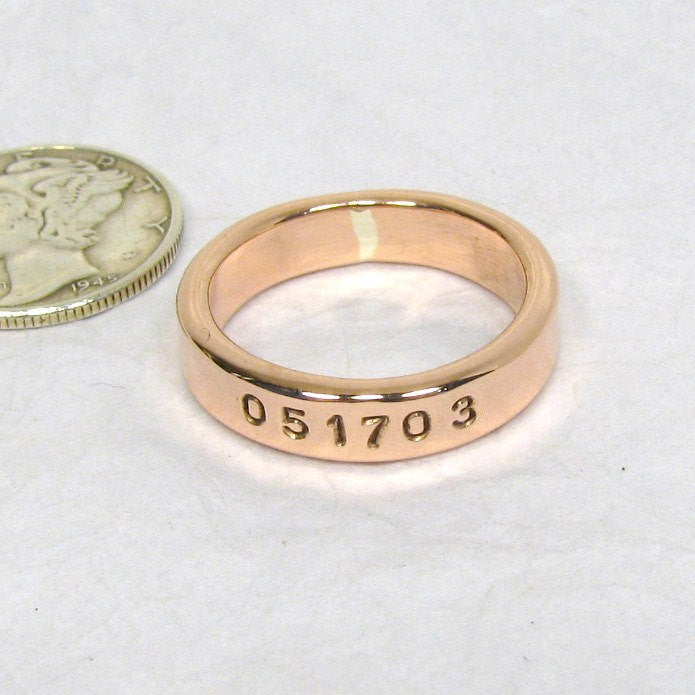 Copper Ring 4.5mm (1), Copper Promise Ring, Polished Copper Ring, Personalized Copper Ring, Marathon, Copper Promise Ring, Wide copper ring
A lasting sturdy copper ring worn plain or inscribed with a simple message of your accomplishment, names, dates or a short phrase. The ring is solid copper 4.5mm wide, 2mm thick with rounded edges for very comfortable wearing. It can be inscribed inside and/or outside. The band is closed with silver solder. There will be a very narrow solder line visible on the outside.
The ring is solid pure untreated un-coated copper. In it's natural state it will patina over time as it reacts with your body chemistry. You can keep it shiny with any none abrasive silver polish or as I've found, just wear it. Rubbing and wear usually keep the copper looking great as it ages.
If you have selected the inscription option, please leave your instructions in the message box at checkout.
Jewelry items are sent protected in a coffee brown gift box.
If you're sending an item as a gift, let me know and I will include a gift receipt ( no price info ).
Hand stamped items are by nature imperfect. Each character is manually inscribed one at a time. There will not always be perfect spacing or alignment but that is part of the charm and uniqueness of each piece.